Did someone tell you that vampires aren't real? Well, of course, they aren't. But what about the midnight blood-suckers breaking into your bedroom at night or even living in your bed? They'll prick your skin, insert their razor-sharp jaws into you and feed on your blood.
Well, if you haven't guessed already, we are talking about none other than the well-loathed, bed bugs. If you're one of us, struggling to keep the bed bugs away, here's everything you need to know!
In this article, we will discuss whether steam kills bugs and how effective it is. We will instruct you step by step on how you can use a steamer in the most effective way to kill bed bugs. And, lastly, some safety precautions that you must take.  
Does Steam Kill Bed Bugs?
Let's face it, bed bugs are bullheaded insects and they're pretty good at hiding. Keeping away from bed bugs can be challenging. 
So, vacuuming often does not prove to be a very good choice to get rid of them. Besides that, even chemicals used to eliminate them are generally ineffective.
Then what will keep them away?
Bed bugs are sensitive to very high or very low temperatures. Bed bugs and their eggs can be killed in temperatures over 1300F. A steam cleaner can produce temperatures well above 2250F. 
Also, because steam particles are so small, they'll clear every nook and corner, which means that it is a trouble-free and chemical-free solution to your bed-bug problem!
Equipment Needed
To solve your problem, you need the right solution and the right equipment!
Firstly, you can buy or rent a steamer with at least a 3.8L (1 US gal) tank. Remember, a simple clothing or carpet steaming device cannot reach the temperature to kill bed bugs.
Most steamers come with a triangular nozzle which has to be attached to the hose or steam wand.
Make sure you have both of these items to get started.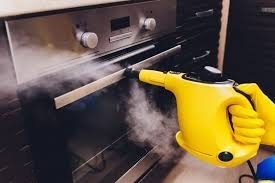 Steps to Kill Bed Bugs Using Steam
Now, since you've found the solution to your problem, let's take a quick review of how you can actually pull it off.
To get started, you can fill in the tank with tap water and switch on your steamer. Set the temperature between 160-1800F as this will be enough to kill a bed bug.
Now point the steamer at your furniture, mattresses, carpets, etc., and make sure you steam in a downward motion to ensure that the bed bugs and their eggs will be pushed down. Move the hose slowly over every item in your house, and make sure to steam all the cracks and crevices as they make a great hiding place for bed bugs.
Ensure that all the surfaces you steam are damp and not completely wet. Your steamer may have a dial for turning up the amount of steam, adjust it according to your needs.
You may repeat this procedure a few times to ensure your 100% success over bed bugs! When done, leave the place with a dry fan on for some time.
Extra Tips for Using a Steamer
If you want to ensure 100% eradication of these insects, then you can go the extra mile by following these tips!
If you see the bed bugs rushing out of their hiding places, then steam them directly for 30 seconds which will be enough to kill them.
For extra coverage, you may apply an insecticide to drive the bugs or even dust mites out of their hiding places.
You can always use an infrared thermometer to check the temperature of the surface you steam to really ensure that the bed bugs are being killed.
After the process, you may find dead bed bugs in your house, you can pick them up with a towel, collect them in a garbage bag, and throw them in an outside trash can.
Some Necessary Precautions
You should always take care while using the steamer. Here are some necessary precautions that you must follow to ensure your safety.
The best and foremost precaution is always to read the user manual thoroughly before operating any device as minor details may be different for steamers of different companies.
The steam that comes out is of extremely high temperature so don't forget to keep children and pets away from the device as it can cause high-degree burns and always direct the steam away from yourself.
Make sure that you use a triangular nozzle only, and NOT a pin-point one as the latter will only blow the bed bugs away and not kill them.
For first-time users, you should know that the steamer spits out drops of boiling water at first, so point it towards a towel before you start using it.
Final Words
This was all there is to know about how to get rid of bed bugs. We guarantee you that this would be the last time the bed bugs might be bugging you!
We sincerely hope you can get rid of the little vampires that used to haunt you at night once and for all, and we wish you all the best for your steaming journey!
Thanks for reading!