I see you love to raise chickens.
Feeding them can bring you happiness, especially when you see them eating all the food you give with excitement.
It does not just make chicken owners happy, but it can also state how well you feed your chicken because of their drive to eat the food around them.
However, feeding chicken might worsen if you do not have the best chicken feeder in your place. The food may scatter, which will invite rats and cockroaches to roam around the area.
In this article, we will show you the best chicken feeder to prevent rats from coming to your house, so you can let your chickens enjoy their meal!
Best Chicken Feeder to Prevent Rats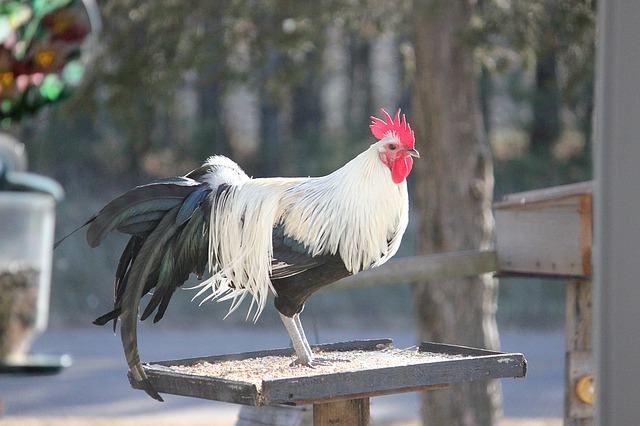 RentACoop Treadle Feeder
This RentACoop's Treadle Feeder can be your best bud out there to help you deal with your chickens without worrying about the pests around.
This chicken feeder can hold up to 25lbs of feeds, letting all your chicken eat a fresh and dry meal whenever they want.
This chicken feeder is 100% rain-proof and pest-proof.
Not only can you put away the stubborn rats and cockroaches roaming around the area once chickens have left their food on the surface, but you can also ensure that your chickens' feeds are safe and secured from getting wet with the rain or any other liquid substance.
You can adjust this chicken feeder from 1.5lbs of pressure for the bantams and 3lbs of pressure for the full-grown and full-sized hens.
You only need to remove a weight under the lid, and then you are good to go.
This feeder has a metallic grill that prevents the poultry from spilling the feed, and it has a 3-step training process, letting the chickens learn how they can get used to their new feeder quickly.
This has secured locks to ensure even bigger animals do not access the feeds. The material has a weatherproof design that can withstand extreme weather conditions while keeping the feed dry.
Grandpa's Feeders Automatic Chicken Feeder
If you want another sturdy chicken with an automatic feature, then you should go with this Grandpa's Automatic Chicken Feeder.
This chicken feeder is built to last. Unlike any other chicken feeders present in the market, this has a high-quality, durable galvanized steel finish, which is definitely built to last even in the most demanding outdoor weather conditions.
We know how much you want to feed your chickens without the pests trying to roam around the area.
So, this feeder can provide you with a secure way of feeding your backyard chickens which allows them to access their meal when their hungry, ensuring optimal laying and joyful chickens out there.
This feeder can let six chickens eat all at once for ten days. It can let multiple chickens eat at once and hold up to 20lbs of feed. Not bad, right?
We know how much you want the food to be protected-this feeder can do it for you.
It can stop food damage with the waterproof feature, plus it can also repel pests, and it does not let other animals eat your chicken feed.
RentACoop Outdoor Rainproof Chicken Feeder
Another chicken feeder from RentACoop is this 25-Pound Rainproof Chicken Feeder, and it can be your best buddy to feed your pet chickens in the backyard.
This chicken feeder can hold up to 25lbs of feed, and your chickens will eat the dryest and the freshest meal when they want to.
Given that this feeder is 100% rainproof and spill-proof, it will not reduce the feed quality; hence, it will preserve the feed until the chickens can consume all their meal in this chicken feeder.
No matter how much you think chickens are messy when eating, their mess will be reduced or eliminated with this feeder because it is designed to deter rodents and wild birds from stealing and contaminating your chicken's feed.
Rest assured your chickens will acquire their food, and they don't have any other animal species to share with.
This feeder comes with all necessary hardware, and it includes two screws for its installation. 
It is suitable for all types of feed – pellets, crumbles, grain, and scratch. This should be used for poultry 12 weeks and older only.
KEBONNIXS Automatic Chicken Cup Waterer and Port Feeder
The KEBONNIXS Automatic Chicken Cup Waterer and Port Feeder can help prevent any rodents from getting in the chicken's meal.
The holes dedicated in this feeder can fit chicken heads to ensure they are the only ones accessing the meal and water.
It comes with an automatic cup waterer that replenishes itself with clean water, and the chickens don't need to peck on any tabs just to hydrate themselves.
It also comes with a no-waste feeder, which dedicates a particular container for the chickens not to spill or soil the feed, saving you money in various ways.
This chicken feeder ensures your chickens can access the best quality feed because it does not let any rodents in, and it can't spill on the surface once the chicken eats.
One thing unique with this feeder is the rain hood. It keeps the feed dry always, and you don't have to put the feeder under cover when you are outside: this feeder can protect itself and keep the meal dry for the chickens' consumption.
However, this feeder is somewhat hard to clean when refreshing the feed and water.
Royal Rooster Chicken Poultry Feeder
The Royal Rooster Chicken Poultry Feeder can make it up to your expectations because this feeder can help you save time and money in feeding the chickens you have in your backyard.
This chicken feeder is made with an innovative design, and it reduces wastage when chickens eat their meal.
Hence, you can ensure little to no spillage if they peck on their food because of this feeder's design to keep the food in place while the chickens are eating.
We know how many rats and other pests can intrude in your chickens' place. Still, you can ensure no wild birds or rodents will disturb your pets because the feeding port has a rain cover for weather protection and prevents other animals from eating together with the chicken.
Rodents cannot also enter because the hole is too small for them to disturb your hens and bantams.
One feeder can suit 4-6 chickens, which is most suited for pellets and general feed mixes.
This feeder can hold up to 6.5 pounds of feed and is 20-inches tall.
However, this feed may jam up because the rain hood is lower than usual. The chicken's head may raise the feeder a little if the weight is light enough.
Final Words
There are various chicken feeders available in the market, but if you are dealing with rats in your place that you want to get rid of, it is better to purchase a specific feeder design to keep the pests away.
We have given you the best chicken feeders to get rid of rats, and now it is time to choose your best fighter. Ensure to consider the capacity and material so you won't regret your investment.
Hopefully, this short article helped you decide the best chicken feeder to prevent rats for your hens and bantams.